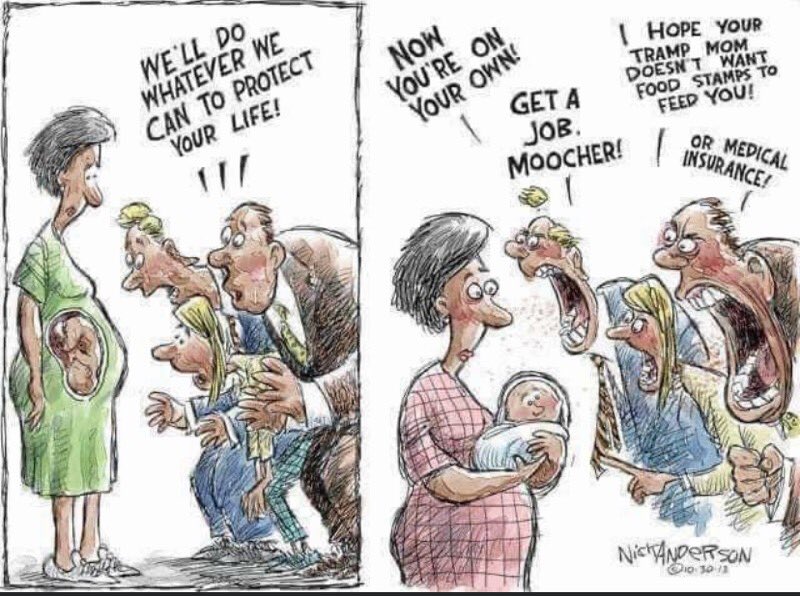 The rank hypocrisy on the Right has blossomed into an amazing thing to behold.
Women who rightly demanded, "My body, my choice", are now suppressed by the same anti-mask authoritarians who proclaim, "My body, my choice".
They don't see the hypocrisy, of course, just as they also don't see racism and inequality.
Lately their moral panic and hobgoblins have been more about their "not-racism" towards Blacks, demonizing BLM, CRT and any other progressive notions about race and inequality. They love to tell us they, "don't see color".
Right. Racism isn't racism to racists. Count on it.
It wasn't that long ago when anti-Muslim bigots and other conservative racists howled about "Sharia Law" coming to the US.
We can't have religion interfering with our laws, can we? Well, make that non-Christian religions.
After all, these hypocrites will say, "America is a Christian nation, derived from Biblical law by our founders".
It's all bullshit, as any sane and informed person knows.
But we can't forget the other inequality embraced by the Right that has never gone away. With the help of one conservative Catholic woman, conservative Catholic Supreme Court Justices are denying women's reproductive rights.
The long struggle for equal civil rights has taught us there is no equal justice under law when the law's impact is tilted against one race.
The long struggle for women's rights has taught us there is no equal justice under law when the law's impact is tilted against one gender.
The Right has ALWAYS opposed any progress in racial and gender rights. And they have always complained about not having the power to legally suppress the rights of others.
This is what makes me yearn for the days when the Right complained about "judicial activism" and "legislating from the bench".
That was never their problem was it? They have ALWAYS wanted their own judicial activism and legislating from the bench.
With a conservative Catholic majority on the Supreme Court, it was only a matter of time before they tore down the wall between church and state.

Let's remember theocracy and fascism are both inherently built on inequality.
On October 10, 1936 Heinrich Himmler created the Reich Central Office for Combating Homosexuality and Abortion, or Special Office (II S), a sub-department of Executive Department II of the Gestapo.
What's the difference between the "Master race" and the "Master Gender", when it comes down to the rights of minorities and women?
Neither of these authoritarian mindsets have a high opinion of equality and democracy.
And let's not give in to their Big Lie about being "pro-life". They DON'T CARE about the woman's health, or the child's well-being after birth. The love their AR-15s more than the terrorized kids in schools. They pass laws protecting weapons manufacturers, but do nothing about school shootings.
They will refuse to consider guaranteed healthcare for them when they get sick or injured. They will still continue their war on public education and public healthcare that would improve or save their lives.
At their core they are indifferent or even hostile to our Constitutional general welfare. No empathy flows in their cold-blooded veins. No light of compassion shines into their closed minds. No mercy emanates from their hardened hearts.
Dr. Graham Walker tweeted, "Just so we're clear: the pregnancy that ends up in the wrong spot, like the fallopian tube? The one that will NEVER turn into a baby and will rupture and kill your wife, daughter, or sister? Terminating that fetus is also an abortion, and they want to ban those, too."
The most recent official data available on the incidence of ectopic pregnancies in the United States is from 1992, when the rate was estimated to be 19.7 per 1000 pregnancies, which represents an estimated incidence of 108,800 pregnancies per year. – Science Direct
Republicans now want to sentence over 100,000 women to death per year.
They really don't give a damn about the woman or the child, just as they don't give a damn about racial injustice. They prove it every day.
If this highly partisan activist Right-wing Supreme Court won't convince more people to vote out the Republican authoritarians on the Right, equal rights, equal justice under law, fair elections, proportional representation, and our entire democratic republic are doomed.