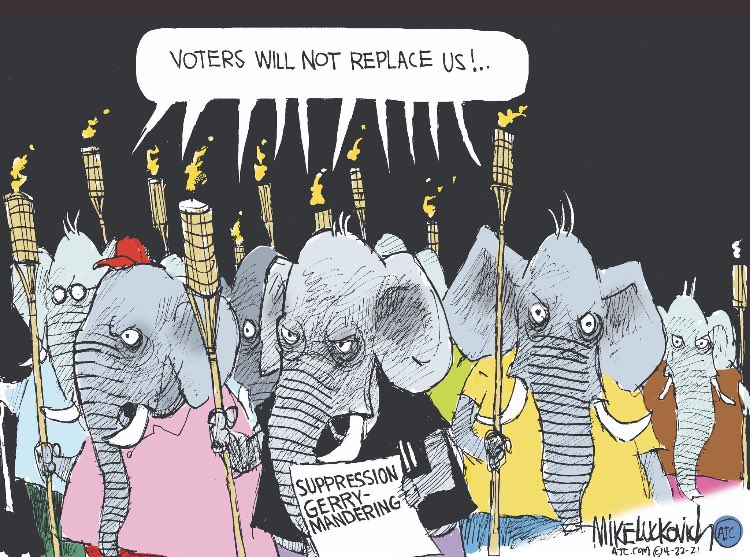 Let's take a moment to lift the veil of virtue and values shrouding the core of American con-servatism found in the Republican Party.
Trumpism thrives in the fertile ground of the reactionary/authoritarian/greed mindset of the Republican Party. The trajectory of this ideology is seen through the arc spanning Hoover, McCarthyism, Nixon, Reagan, the Bush/Cheney Cartel and ultimately Trump. Maximizing personal power and wealth for the economic elites has been their real goal all along.
FDR was called a "traitor to his class" for his concern for the welfare of the common folk. Anything that doesn't support a trickle-up economy is demonized as socialism/communism. Not that they care to know the difference. Never mind our Constitution is loaded with socialistic principles like taxes, regulation of commerce, and the dreaded "provision for the general welfare".
Taxes, regulation, and welfare! Oh, my! The founders were communists!
Everything the Right hates most is in our founding document, except the electoral college, of course. Where would they be without racism, resentment, bigotry, ignorance, and indifference? These have become their tools to seize the levers of power.
This is why Trump said, "I love the poorly educated". This is why voter rights, fair representation, and education are always their primary targets. As the saying goes, they need to fuel a culture war to ward off a class war.
Divide and conquer, with a sprinkling of deep reverence for wealth and the wealthy,
By stoking fear, anger and resentments, they've been successful at building conformity, loyalty and groupthink into a neo-fascist agenda.
And so, we have the three primary pillars of con-servatism.
1. Racism/bigotry for the most ignorant bottom feeders wallowing in the white fright and resentments of white nationalism..
2. Authoritarianism for the fascists, paranoid militia gun nuts, and religious fanatics who are not fully embedded in, but tolerant, or dismissive, of racism and bigotry. This is all presented in the guise of "liberty and faith". Yes, American fascism comes carrying a Bible and wrapped in the flag.
3. Insatiable greed and lust for power by rigging government, law, and the economy to favor the economic elites.
And there it is, the unwritten and unspoken platform of the radical Right.
Bigotry, authoritarianism, and greed.