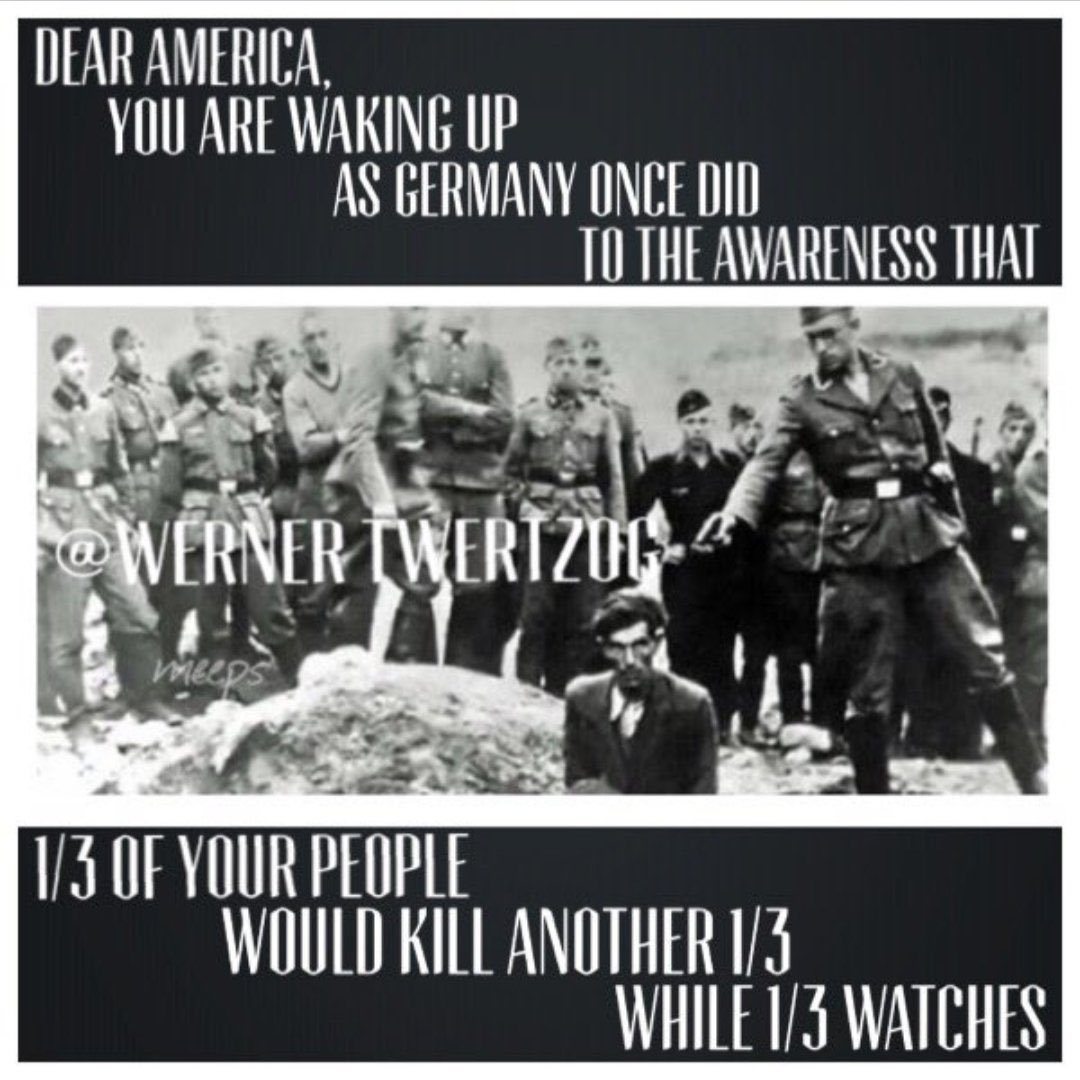 If anyone of sound mind and morals sat through the Trump/CNN debacle last night, I offer them both my pity and congratulations. Witnessing fascism's voice being amplified for over and hour, spewing a stream of lies and hate is exhausting and depressing.
We can only ask ourselves, "What the hell is wrong with our country?"
This is the question I've been writing about since Bush and Cheney lied us into war and were reelected for their war crimes.
Trump is but the logical consequence of the moral decline and willful ignorance in a large percentage of our citizenry. White nationalism has taken over the American Bible Belt. We're watching good people be deceived by sociopaths and allowing their racial resentments, bigotry and fears of being replaced to dominate their politics. Now the question is, are they still good people?
Were "good Germans" still good people after willingly swearing an oath to Hitler? Sure, they may have still been good parents, and good neighbors and friends to fellow Nazis, but is that enough for them to remain good people?
The answer is no. Their willing embrace of anger and hate in service to evil cancels what might remain of any conscience or decency.
I'll leave it to others to fact check all his lies, and denounce his vile hate and outrageous behavior. We've seen quite enough of it already.
Instead of my usual ranting, I want to share the important observations of former naval aviator Brynn Tannehill.
She knows her subject, and is the author of "American Fascism: How the GOP is Subverting Democracy".
This is what she tweeted regarding CNN's horror show last night:
A ton of ink (virtual or otherwise) has already been spilled on Trump and CNN. Obviously it was Trump at his most awful. And obviously CNN did our country a disservice by hosting what was effectively a Trump rally. But, there's an angle that's missing from the discussion.
Namely, the audience. These were all Trump supporters. Republicans and independents who were supporters of the former President. Clinton called them a "basket of deplorables" in 2016, and they got offended.
Last night was a reminder she was right.
They laughed and cheered as Trump mocked the woman he was found liable for sexually assaulting. He was cheered when he called "moderator" Kaitlan Collins "a nasty woman." They eagerly devoured the myriad of lies he told about EVERYTHING.
It was a Gish Gallop, right down to claiming he would end the war in Ukraine in 24 hours without giving details. (Hint: there's no way the US could do that, even if we cut off aid immediately. Ukraine would keep fighting and looking for alternate suppliers of arms.)
And they believe it all. They LOVE it all. The cruelty is the point. They love Trump and Putin and Orban. They love Jesus too, and have claimed all of American Christianity for their own. They've destroyed its reputation in the process.
For most decent people, who don't laugh at people for being raped, seeing someone wearing a cross is a big warning sign: this person is not safe. This person is not kind. This person does not even vaguely live in the same reality the rest of us do.
And yes, this thread will get a lot of "not all Christians" messages here. But these folks are at the spearhead a fascist movement that revels in cruelty, domination, and abuse of power. Not everyone that wore a swastika pin was bad, but there weren't many Oskar Schindlers.
But, above all else, last night was a reminder of what America under Trump was, and will be again if we put him back in office. Cruel, theocratic, vulgar, misogynistic, unmoored from reality, ignorant, immune to evidence, and racist.
These are not good people, even if they believe their religious beliefs make them inherently good. This is a movement centered on grievances and vengeance against enemies of the herrenvolk. What we saw are the true believers Milton Mayer wrote about.
Hardly anyone will read this. And even if it goes viral, it still isn't enough. But for those that do read it, I hope it reminds you that what is coming is dark beyond all belief. They want vengeance on those they believe they have tolerated for too long.
There is no bottom: there is no point at which his supporters will say, "No, we're going too far, this is wrong." These are people with an axe to grind, and without empathy for anyone who seen as an enemy.
If the 2nd Trump administration was putting trans people through tree shredders, his supporters would demand that they be dipped in lemon juice first.
Last night was a chilling reminder not only can it happen here, it WILL happen here if we get a second Trump term.