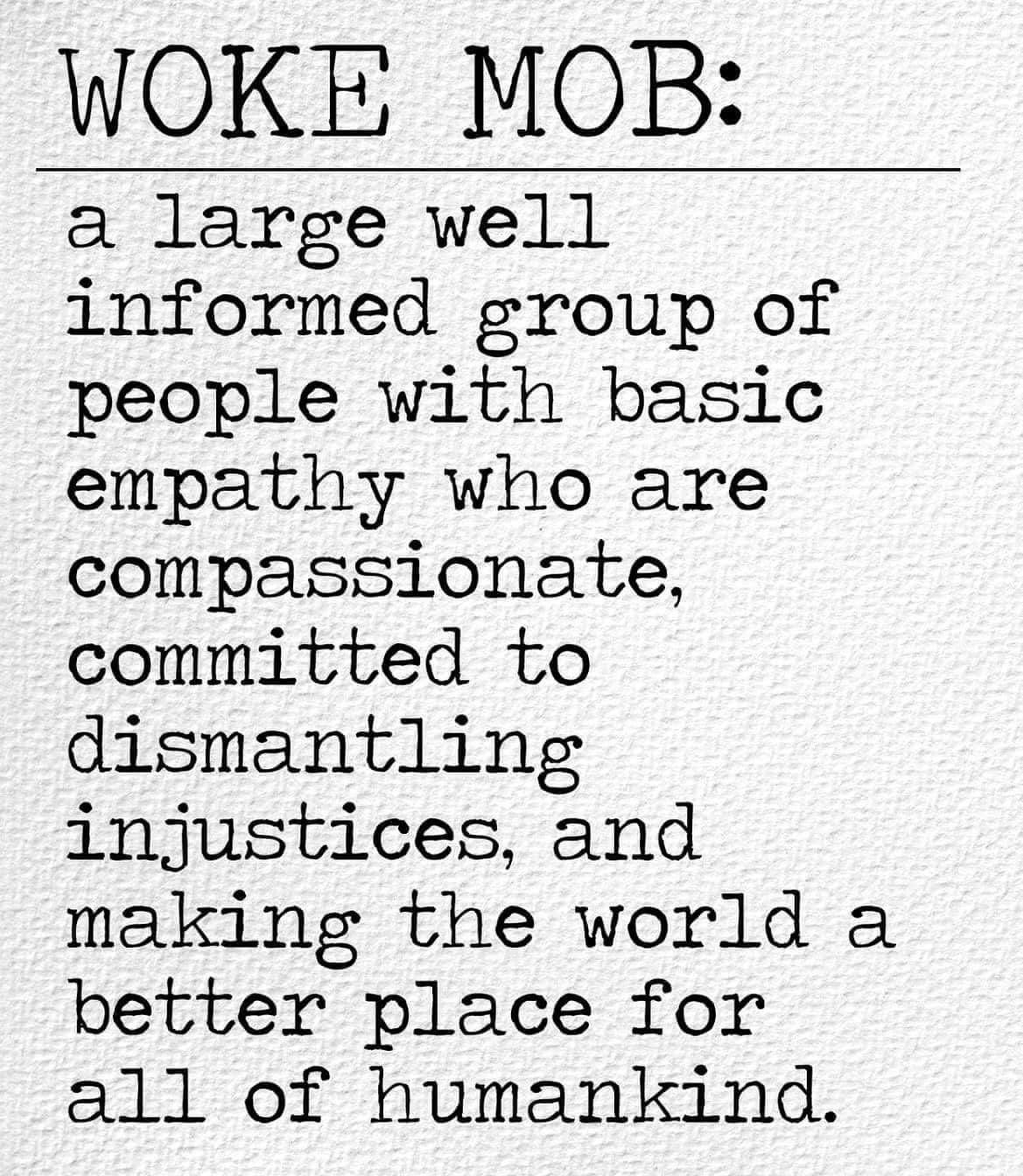 A concerned reader, or just someone I irritated, decided to respond to my previous post "CRT and Woke", and inform us "Wokeness is Marxism in the 21st Century". Despite the mysterious origin of this screed, I'll take it as the best argument the radical Right can muster on the topic.
I'll post it for all to review, then give my response.
WHAT IS WOKENESS?
There are those on the "woke" left who seem to believe conservatives cannot define what wokeness is. Well, let me help by taking a swing at it.
Karl Marx and his early followers often referred to "class consciousness." Since Marxism holds that all human relationships are class based, "class consciousness" referred to propagandizing the people to make them "conscious" of these class distinctions as the root of all their problems. "Woke" is just another word for consciousness. There's more to it, so if you're interested, read on.
Marxists like all tyrants, always want to control language because they know if they can control what people can say, they can control how they think and eventually how they behave. This all began with "political correctness." Look where that's gotten us. Certain words are effectively banned. But not all banned words are banned for everyone. We now accept a double standard and believe we continue to have freedom of speech. Certain words are off limits to some, while others use the same words and earn a king's ransom. Odd, isn't it?
After the 2nd World War, the Marxist use of the term "class consciousness" seemed anachronistic and dated. Then came Herbert Marcuse of the Frankfurt School. He, along with many others refined Marx's class consciousness theory with a tool called "Critical Theory". This theory proposed to raise "consciousness" or more colloquially, "wokeness", by applying Critical Theory to societal institutions. Marx believed all existing institutions had to be destroyed in order for socialism and communism to be realized. He reasoned that all existing institutions served the status quo interests controlled by the dominant capitalist class who subordinated, exploited and enslaved all other classes.
Critical Theory is the overarching term applied to a panoply of Critical Theories applied to different institutions Marxists target for attack. Therefore, Critical Gender Theory is actually an attack on the nuclear family and heterosexuality, by making people conscious or if you prefer, "woke" and supporting of the systematic degradation and deconstruction of the traditional family as a foundational institution. That's what "woke" means in that sphere. The appeal to rights for transgenders is only the vehicle employed for the destruction of women, motherhood and the traditional nuclear family.
Critical Race Theory is also an attack, but simply based in race. All the different Critical Theories endeavor to control speech and actions through suppression of any alternative views. We see examples of this on college campuses every day where the neo-Marxist chant "speech is violence." This is upside down. It can be said that violence can be a form of speech, but it's absurd to suggest that speech itself is violence. This is how the suppression of speech becomes justified in the minds of these militants.
Each version of Critical Theory has its own version of "wokeness". It's just dishonest to suggest it defies description. Anyone familiar with Marxism and the Frankfurt School and Herbert Marcuse in particular understands this. This isn't ambiguous. Wokeness is Marxism in the 21st Century.
It attempts to distance itself linguistically from the classic Marxist terminology, making it appear different in form only. There is no difference at all in substance. The important point here is this: all of this was enabled by accepting the cancer of political correctness.
The day is coming soon when political dissent in America will be driven underground if people don't stand up to this right now. Do not comply.
~~~~~~~~~~
The author's take on the question "What is woke" leads us to ask our own questions. How will we ever know who asks, and declares, "What is Wokeness?"
The anonymous troll didn't credit his copy-and-paste white nationalist "definitions".
Who is the "me" who is "taking a swing at it"?
Why won't he have the integrity to put his name to that piece? I suspect it's because he lacks the ability to compose it. Then there's the additional apparent lack of integrity in withholding the name of the actual author.
This lack of integrity and honesty sets up our case and obviously weakens his.
Everything the radical Right hates is "woke" "CRT" or "Marxism" because they will ALWAYS unilaterally redefine anything they hate as "woke" "CRT" and "Marxism".
I thank him for proving my point that they need to disregard or dismiss any definitions they don't like and make up new ones to suit their prejudice and hate.
Make no mistake. Hate and bigotry are at the core of this nonsense, expressing moral panic, bitter grievances, and paranoia through the manufactured horror of the "destruction of women, motherhood and the traditional nuclear family". This expresses the fear, anger and resentments fomenting within the reactionary FEELINGS of the radical white Right. In fact, this tirade would resonate with every American white supremacist and neo-Nazi.
Hundreds of armed radical Right bigots, including "Sieg Heil" chanting neo-Nazis, joined by right-wing Christian groups, converged on a park in Ohio where parents were and children had gathered to enjoy a drag queen story event. (Hint: Idiots with guns kill children, drag queens do not.)
Let's remember on February 1, 1933, Hitler proclaimed, "The National Government...regards Christianity as the foundation of our national morality, and the family as the basis of national life."
Every white nationalist fascist ideology must also embrace a false sense of victimhood. Hitler was a "victim" of the Jews. Trump and his cult are "victims" of the "Marxist radical Left", aka "racist" Black prosecutors, the "deep state", Democrats and "RINOs".
The election was "rigged". Justice is "weaponized". These are just two of their bitter projections to deflect from Trump's efforts to interfere with states' election counts by fake electors, strong-arming a Secretary of State, and his efforts to have his DOJ "just say the election was corrupt and leave the rest to me and House Republicans"
Of course, they see no "political correctness" in parroting Trump's fascistic swill of lies, lest they fall into their Dear Leader's disfavor. "Disloyal RINOs" beware.
The other blatant projection is Marxists "want to control language because they know if they can control what people can say, they can control how they think and eventually how they behave". And there's their reason for redefining terms to fit their prejudice and hate.
The other big giveaway of this racist "definition" is glaring.
Notice the "definitions" of woke and CRT completely ignore the existence, history and effects of slavery and racism, the essential roots of the original meaning of woke and CRT. This is why the radical white Right insists they alone have authority to whitewash racism, woke, and CRT.
"The Life of Rosa Parks," a biography of a civil rights hero who fought segregation, is one of 176 titles that schools in Duval County, Florida, removed from classrooms for review, per Business Insider. According to nonprofit PEN America, the books in review have been in storage for months "with little indication of when they might return to classrooms."
A textbook publisher used in 45,000 Florida schools recently removed any reference of Rosa Parks' race in a draft lesson plan, per The New York Times. The publisher, Studies Weekly, said this was done to comply with Gov. Ron DeSantis' (R) "Stop WOKE Act."
"In Florida we are taking a stand against the state-sanctioned racism that is critical race theory," said DeSantis in his 2021 proposal of the law. "We won't allow Florida tax dollars to be spent teaching our kids to hate our country or to hate each other."
One more radical Right projection, deflecting from THEIR efforts to teach kids and adults to deny white American racism and hate others who see it for the reality it still is.
When they tell us it's all a "commie plot to destroy America", they really see a "plot to threaten white supremacy".