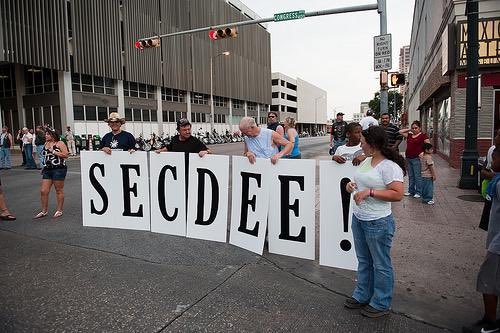 In case it's not clear by now, a primary goal of fascism is to deny the will of the majority and eliminate representative democracy. A number of MAGA "Big Lie" Republicans running for governor and secretary of state in 2022 openly boast of their intent to control the election outcome in 2024.
They WANT electoral chaos and a Constitutional crisis. Social instability is fertile ground for growing authoritarianism.
The Republican agenda has gone from opposing taxes, regulations and big government to spreading lies and hate to achieve an anti-American one-party dictatorship. We can be certain of this because the dishonest and hateful authoritarians scorn compromise and detest fair elections and representation.
They have openly embraced a core tenet of fascism.
And in that regard Texas leads the way.
Newsweek reports:
"Texas GOP Declares Biden Illegitimate, Demands End to Abortion"
The Texas GOP's convention in Houston reinforced how many remain fixated on former president Donald Trump's baseless claims of widespread fraud in the 2020 presidential election—even after the House panel investigating the January 6 attack on the U.S. Capitol presented evidence that those claims were false and showed testimony from Trump's closest advisers saying they did not believe them during televised hearings.
Earlier this week, the party's Permanent 2022 Platform & Resolutions Committee advanced a resolution claiming the 2020 election had violated the Constitution.
"We reject the certified results of the 2020 Presidential election, and we hold that acting President Joseph Robinette Biden Jr. was not legitimately elected by the people of the United States."
What they reject is the will of the people. What they embrace is Trump's Big Lie. We're learning from Trump's fellow Republicans' sworn testimony before the Jan. 6th Committee hearings that he knew he lost the election. Even his unctuous ally Bill Barr told him so, before the Big MAGAt tried to strong arm the Justice Department into challenging the election results.
On Nov. 12, 2020, officials from two Department of Homeland Security committees — the Election Infrastructure Sector Coordinating Council and the Election Infrastructure Government Coordinating Council overseeing cybersecurity — released a joint statement to Trump:
"The November 3rd election was the most secure in American history. The November 3rd election was the most secure in American history."
For that, Trump fired director of DHS's Cybersecurity and Infrastructure Security Agency Christopher Krebs.
Poll workers, election certification boards, secretaries of state, and 60 federal and state courts are united in the truth. Trump lost to Biden in a fair election. There was no rampant voter fraud.
Reality is unacceptable to tyrants. Crushing democracy by controlling and stealing elections is now the stated Republican agenda.
Trump crony Steve Bannon said in November 2021: "We're taking action. We're taking over school boards. We're taking over the Republican Party with the precinct committee strategy. We're taking over all the elections."
If that wasn't ominous enough, Bannon tweeted on January 5, 2021:
"All hell is going to break loose tomorrow. It's all converging, and now we're on the point of attack tomorrow. And all I can say is: Strap in. You have made this happen, and tomorrow it's game day."
One of the few conservative Republicans who still honor the Constitution made it clear.
In "The Republican blueprint to steal the 2024 election" Pence advisor J. Michael Luttig wrote:
The last presidential election was a dry run for the next.
From long before Election Day 2020, Trump and Republicans planned to overturn the presidential election by exploiting the Electors and Elections Clauses of the Constitution, the Electoral College, the Electoral Count Act of 1877, and the 12th Amendment, if Trump lost the popular and Electoral College vote.
Authoritarian theocracy is also a Texas Republican value.
"We urge lawmakers to enact legislation to abolish abortion by immediately securing the right to life and equal protection of the laws to all preborn children from the moment of fertilization, because abortion violates the US Constitution by denying such persons the equal protection of the law."
Nowhere does the Constitution, or any law, state a zygote is a "person".
And anti-American Trumpist Texas Republicans have an odd way of showing their "patriotism".
Their new platform states: "Texas retains the right to secede from the United States, and the Texas Legislature should be called upon to pass a referendum consistent thereto."
My reflexive response would be, "Go ahead. Make my day". But then I consider what could happen to minorities, educators, progressives, LGBTQ and other people the radical Right detests. Their civil liberties and right to vote for fair representation would be destroyed.
Their platform also calls for a state electoral college to elect statewide office holders instead of the popular vote.
Under a section titled "State Sovereignty," the platform states: "Pursuant to Article 1, Section 1, of the Texas Constitution, the federal government has impaired our right of local self-government. Therefore, federally mandated legislation that infringes upon the 10th Amendment rights of Texas should be ignored, opposed, refused, and nullified."
Texas, of course, goes even further to radicalize the extreme Right to sow the seeds of anger and future violence. The Texas GOP's new party platform also called for full repeal of the Voting Rights Act of 1965, and describes homosexuality as "an abnormal lifestyle choice".
Only ignorant bigots and religious fanatics believe it is a "choice".
Nothing reeks of fascism like denying voting rights and demonizing a minority.
I have a radical idea.
Instead of letting Texas secede, let's let democracy succeed.
But let's play their game for a minute. If homosexuality is "abnormal", despite it being prevalent in nature and throughout all human history, we have to conclude it is "abnormal" only because homosexuals are a minority.
Fine. Since Texans consist of a minority of Americans, let's declare Texans "abnormal Americans", and deny them their civil liberties, voting rights and representation in Congress.
Hell yes, let's mess with Texas. They aren't loyal Americans anyway. Let them go. Remove all US military and law enforcement, including Homeland Security, ICE and US Customs and Border Protection from their Redneck Regime. No more Social Security or Medicare for abnormal Americans, either. No more US Constitution.
But then again, all Texans are not Republicans. "And some, I assume, are good people."