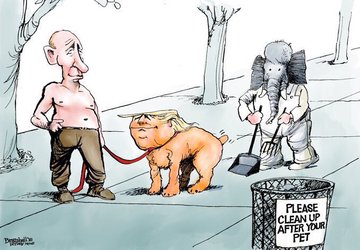 Putin has invaded Ukraine.
Watch how he and many Republicans will blame Biden. No matter. This blood is on Putin's hands alone.
Putin's authoritarian cronies are threatening anyone who dares to show dissent.
Moscow's Mayakovsky Theater has forbidden its actors from making "ANY comments AT ALL" about Russia's invasion of Ukraine. The city's Culture Dept. reportedly says any negative comments will be considered "treason."
Russian TV is showing Trump's praise for Putin to justify his invasion.
Putin said his country strives to achieve the "demilitarization and de-nazification" of Ukraine. (President Zelensky is Jewish.)
Lucky for us Putin won't try this for the US because all of our neo-Nazis are Trump supporters.
President Biden has been correctly warning us that this was about to happen. He was mocked by the Right, of course.
The American radical Right simultaneously denounces President Biden for doing both "too much" and "too little" during this crisis.
Of course they do.
Trump was "tough" for praising Putin, while Biden is "weak" for denouncing him.
What else can we expect from the party that sent members of the Senate and House to Russia for the Fourth of July in 2018?
For the record, the Red Square Republicans or "Moscow Mules" are:
Sens. Richard C. Shelby (Ala.), Steve Daines (Mont.), John Hoeven (N.D.), John Neely Kennedy (La.), Jerry Moran (Kan.), John Thune (S.D.) and Johnson, plus Rep. Kay Granger (Tex.).
It shouldn't be a surprise to see how many Republicans praise Putin. After all, Trump was Putin's favorite US president.
Let's have a look at how many on the American radical Right revere their fellow authoritarian Putin.
Trump recently praised Putin's aggressive moves against Ukraine in a podcast interview with conservative podcaster Buck Sexton.
"I went in yesterday and there was a television screen, and I said, 'This is genius.' Putin declares a big portion of the Ukraine — of Ukraine — Putin declares it as independent. Oh, that's wonderful! 'How smart is that?' And he's gonna go in and be a peacekeeper. That's strongest peace force... We could use that on our southern border. That's the strongest peace force I've ever seen. There were more army tanks than I've ever seen. They're gonna keep peace all right. "Here's a guy who's very savvy... I know him very well. Very, very well."
"You gotta say that's pretty savvy. And you know what the response was from Biden? There was no response. They didn't have one for that. No, it's very sad. Very sad. I knew Putin very well. I got along with him great. He liked me. I liked him. I mean, you know, he's a tough cookie, got a lot of the great charm and a lot of pride."
We've heard the latest evil lie from Mordor-A-Lago:
"It all happened because of a rigged election."
And it's not just Trump.
Here's just a small sample of what the Putin fans in the Republican Party are saying:
Mike Pompeo: "Very shrewd & capable. Very talented statesman. Knows how to use power. Enormous respect for him" "He is a very talented statesman. He has lots of gifts. He was a KGB agent, for goodness sakes. He knows how to use power. We should respect that."
Mike Pence: "A stronger leader"
Rudy Giuliani: "Makes a decision & executes it. That's what you call a leader"
Tucker Carlson: "Why is it disloyal to side with Russia..."
A Fox News Chyron under Tucker Carlson from Dec. 7, 2021: "Putin Just Wants to Keep His Western Border Secure"
Paul Gosar tweeted: "Putin puts Russia first as he should. Biden should put America first but instead he will let in terrorists and welfare seekers."
Candace Owens tweeted this week: "I suggest every American who wants to know what's *actually* going on in Russia and Ukraine, read this transcript of Putin's address. As I've said for month — NATO (under direction from the United States) is violating previous agreements and expanding eastward. WE are at fault."
Steve Bannon and Erik Prince are supporting Russia because Putin is anti-woke and has no tolerance for LGBTQ.
Trumpists have not been shy about it. We've see the t-shirts at Trump rallies proclaiming, "I'd rather be Russian than a Democrat". And so they would.
This should suffice as sufficient evidence of pervasive Republican loyalty to Putin.
Liz Cheney, Mitt Romney, and Adam Kinzinger are some Republicans who are not among this pro-Putin faction. Obviously they are the ones who understand the threat Trump presents to our democracy.
~~~
On the other hand, there are brave and thoughtful Russians who refuse to support their version of Donald Trump:
Thousands of Russian anti-war protesters are taking to the streets.
Over 170 Russian journalists, including from Kremlin-run RT and TASS, have signed an open letter calling for an end to war with Ukraine.
Meanwhile, back in the US, we are facing our domestic Putinists.
Once again the US is about to see Putin's Party on the ballot in our next election.